Christmas Foods From Around The World: Part Two
Ever wonder what other countries are chowing down on this Christmas? Does eating blood sausage and sauerkraut sound... odd? Well our friends in Estonia don't think so.
Cultures from around the world all celebrate differently at the dinner table. Read part one of our blog to get caught up on all the delicious delicacies shared at the holidays.
 
Lithuania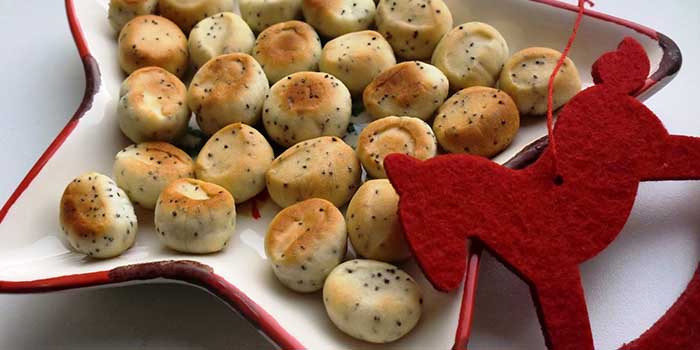 In Lithuania, it's a tradition that people fast during the day of December 24th and eat the main meal, known as kūčios, in the evening.
The main meal consists of 12 meatless dishes and includes fish (most often herring), kūčiukai (small sweet pastries), vegetable salad, beetroot soup with mushroom filled dumplings, boiled or baked potatoes, sauerkraut, and a wheat porridge with honey and bread.
Sweet dishes including kissel (a thickened fruit soup) and stewed fruit are also served.
 
Mexico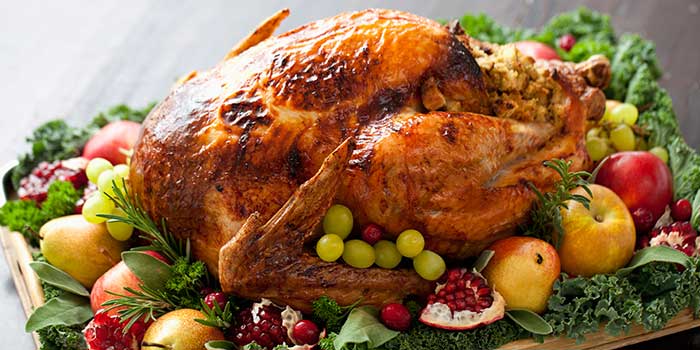 Like many other countries, Christmas in Mexico isn't a single day event but a month-long fiesta.
On Christmas Eve, the main dish consumed is commonly pavo (stuffed turkey filled with ground meat and served with vegetables and rice). Roasted Adobada Pork Leg is another popular tradition.
Also, what Mexican Christmas would be complete without tamales? Chicken, beef and pork tamales with dried pepper sauce or chicken are all favourites.
Pozole is a traditional soup made with pork or chicken, seasoned with garlic and peppers, and garnished with thinly sliced lettuce leaves, cabbage, oregano, avocado and lime.
Bacalao a la Vizcaina is a dried salted codfish stew which, in addition to Christmas, is cooked for every special Mexican celebration throughout the year.
 
The Netherlands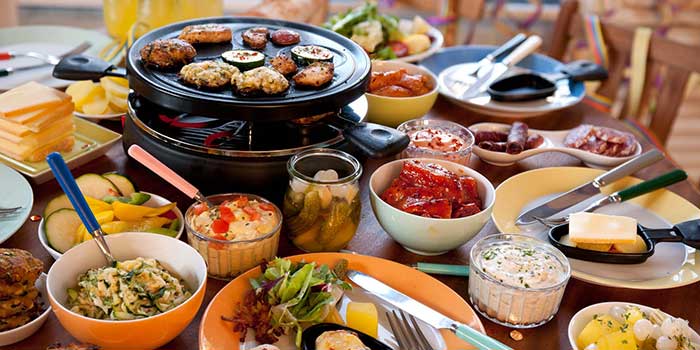 On Christmas morning, the Dutch start with kerststol (a breakfast consisting of raisin bread filled with nuts, dried fruits, and almond paste). During breakfast, you will also find a variety of bread, cheeses, and meats.
Christmas dinner begins with a shrimp cocktail as an entrée followed by either roast beef, duck, rabbit or roasted or glazed ham served with vegetables, potatoes, and salads.
However, many families now enjoy a more gourmet affair called gourmetten which shares a lot in common with former Dutch colony Indonesia. Gourmetten is like a savoury fondue of sorts and sees the host prepare chopped vegetables and a selection of meats, fish, and prawns along with a selection of condiments and salads. Each guest is then given a small frying pan and dinner set to cook and season their own food, eaten in small portions.
 
New Zealand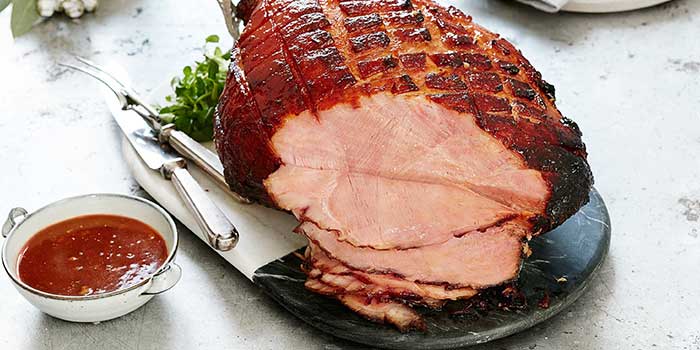 Like Australia, the Christmas traditions in New Zealand are similar to traditions in the UK. Roast lunch or dinners with ham, turkey, roasted vegetables, gravy, potatoes, along with mince pies, and Christmas pudding are all staples.
 
Nigeria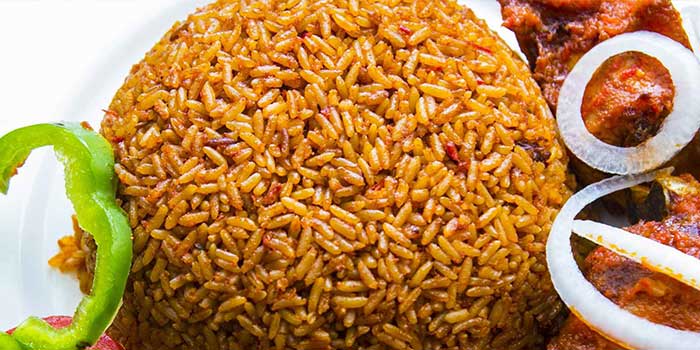 Both jollof rice and fried rice are the two staples of any Nigerian Christmas. In fact, you will find many rice dishes on offer during Christmas in Nigeria.
Where turkey is the traditional Christmas meat in many countries, in Nigeria you will also find turkey but also chicken, ram, goat, or beef. Meat is served with a variety of rice dishes, yam and plantain dishes, and a selection of vegetable soups.
 
Norway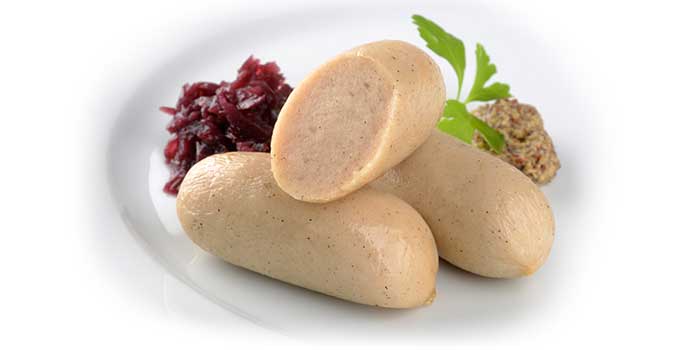 Traditional Christmas dishes include julepølse (pork sausage with ginger, cloves, nutmeg, and mustard), ribbe (a roasted pork belly paired with sauerkraut, boiled potatoes and meatballs and gravy), pinnekjøtt (salted and dried or smoked lamb ribs served with boiled potatoes and mashed rutabaga), and sossier (small sausages served with red cabbage on the side).
An offering of no less than seven varieties of cookies (småkaker) is also an essential for any Norwegian Christmas. These cookies include pepperkaker, krumkaker, goro, berlinekranser, fattigmann, sirupssnipper, bordstabel, smultringer, and sandkake, and brune pinner.
Poland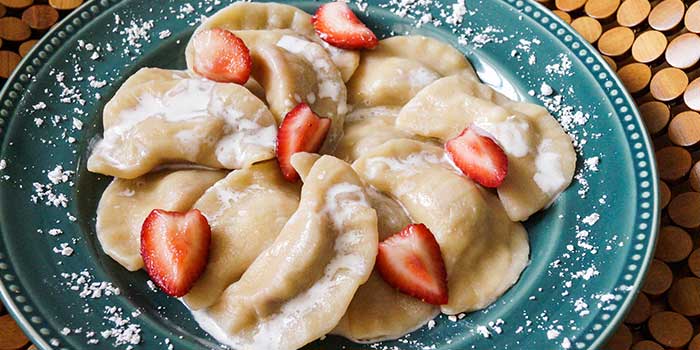 Christmas Eve is a day of fasting however in the evening, Christmas dinner consists of twelve dishes, all traditionally meat-free. Only fish (usually herring, carp or pike) is served.
Other traditional dishes include Polish dumplings with a variety of fillings, red borscht, mushroom or fish soup, sauerkraut with wild mushrooms or peas, dried fruit compote and kutia (a dessert that is especially popular in eastern Poland).
 
Romania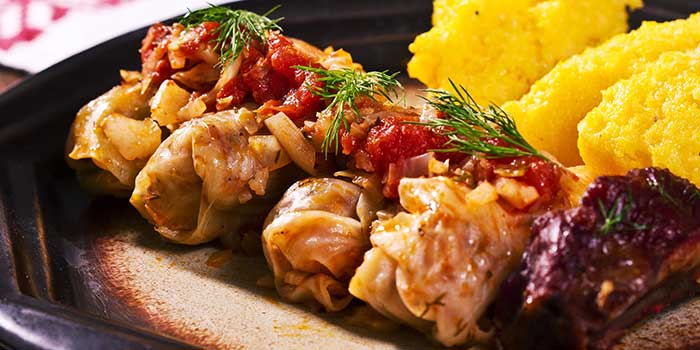 Christmas is a month long event in Romania and involves a fasting from meat, eggs, and milk, and occurs from November 14th until December 24th.
Most of the Christmas foods are based around pig and includes smoked ham, bacon, sausages, liver sausage, and trotters.
Other foods include sarmale (cabbage rolls with pork, beef, and rice, boiled in tomato sauce) served with polenta. Other foods include pickled vegetables and Ciorba de perisoare (a vegetable soup made with fermented bran and pork meatballs).
Cozonac (a rich, sponge-like fruit bread), and gogos (Romanian style doughnuts) are also Christmas musts.
 
Russia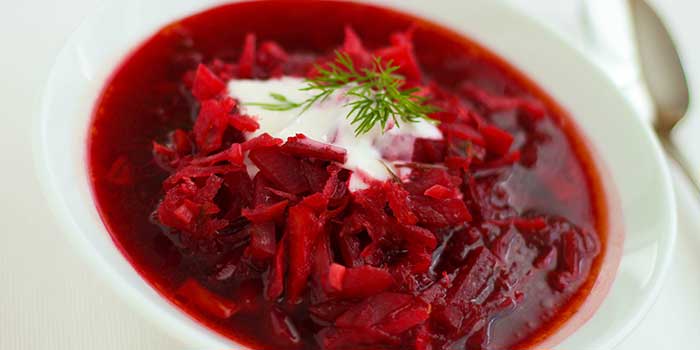 Like Romania above, Christmas Eve in Russia includes a day of fasting. After the fast, it is tradition that people eat sochivo or kutia (a porridge made from wheat or rice served with honey, poppy seeds, fruit chopped walnuts or even fruit jellies).
Other popular Christmas Eve foods include borsch (beetroot soup), vegetable pies, sauerkraut, buckwheat with fried onions and mushrooms, potato and other root vegetable salads.
On Christmas day, meats such as roast pork and goose and dumplings are eaten along with fruit pies, gingerbread and pryaniki (honey bread cookies).
 
Spain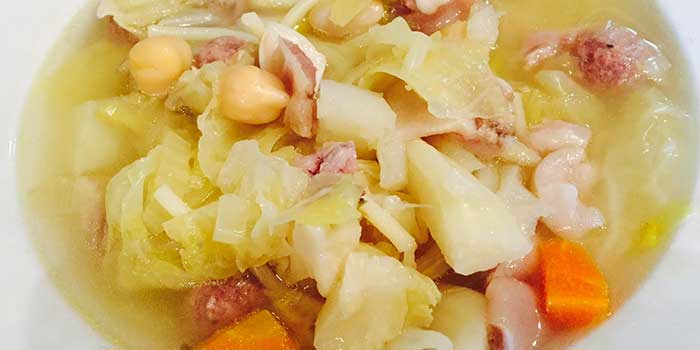 A traditional Spanish Christmas dinner, served late on Christmas Eve, contains several courses. And yes this includes Christmas tapas, which is similar to regular tapas found throughout the year but, during Christmas, most tapas contain fish and seafood. Smoked salmon, chorizo, artichokes, and anchovies are also included.
The main course consists of a soup such as escudella, a rich meat and vegetable soup, followed by roasted lamb with baked potatoes and salad. Another traditional food served is dry-cured ham, also known as jamón.
Turrón, a type of nougat, is a popular desert as is rosquillos de vino (wine cookies) and polvorones (crumble cake). There are many cakes synonymous with Christmas, all of which feature almonds and marzipan.
 
Sweden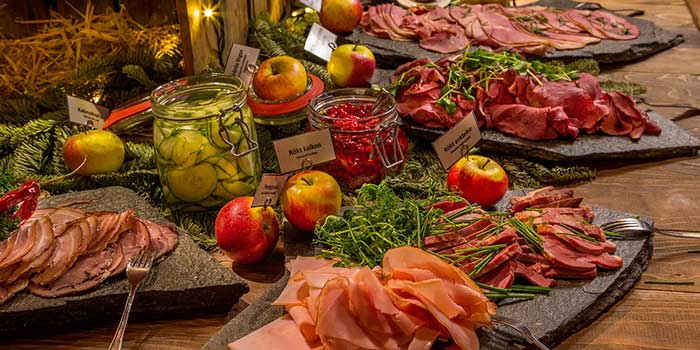 The traditional Christmas buffet-style julbord is served as the main meal during lunchtime on December 24th.
A main feature is cold fish such as herring (served different ways), gravlax (cured salmon cured in sugar, salt and dill) and smoked salmon.
Other dishes include köttbullar (meatballs), cold meats such as turkey, prinskorv (sausages), kåldolmar (meat stuffed cabbage rolls), julskinka (Christmas ham), as well as red cabbage, various cheeses, potato, salads, pickles and an assortment of bread.
 
United Kingdom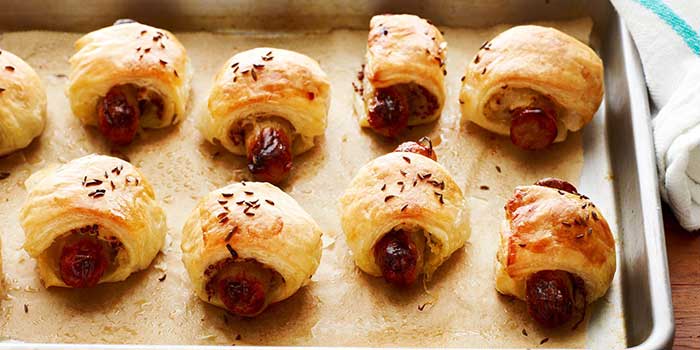 Christmas dinner is eaten in the afternoon of December 25th and consists of roast turkey or roast beef served with roast potatoes, herb stuffing, brussel sprouts, cranberry sauce, "pigs in a blanket" (small sausages wrapped in bacon), and Yorkshire pudding with gravy (a batter that includes eggs, milk, and flour).
For dessert, trifle (a layered cake made of custard, sponge cake, fruit, jelly, and whipped cream, served in a glass), mince pies, plum pudding (which actually consists of raisins, not plum), custard are all Christmas essentials in the UK.
---
What's your holiday tradition? Let us know how your family celebrates Christmas dinner on social.
---
Applying for a loan online is free,
safe and easy with no obligations!